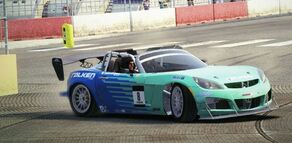 The Saturn Sky features in the Formula Drift championship, and has been designed to be as manouvreable as possible. With over 800bhp on tap, and a drift-tuned chassis, this is one of the fastest cars in the Gymkhana class.
- Car Viewer description
The Saturn Sky is a Gymkhana car in DiRT 3 and a Hoonigan car in DiRT Showdown. It is only available in DiRT 3 by purchasing the Mud & Guts Car Pack.
Power: 800bhp
Weight: 1,100kg
Drive: RWD
Power: 10/10
Weight: 7/10
Handling: 8/10
Team Falken Tire
Slime Motorsport
Kenwood Racing
Recaro Racing
Nixon Competition
Falken
Flip
Vestal
Slime
LuK
References
Edit